Fall Commencement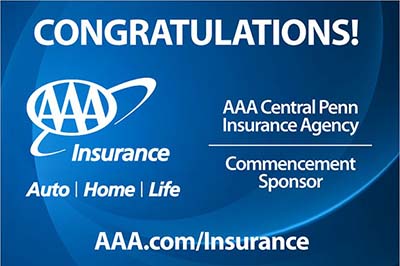 Learn about fall Commencement.
 
When and where is the fall 2019 Commencement ceremony? 
HACC will hold the fall 2019 Commencement ceremony on Dec. 17, 2019, at 6 p.m. at the Giant Center. The Giant Center is located at 550 W. Hersheypark Drive, Hershey, PA 17033.
Can I participate in the fall Commencement ceremony?
HACC invites you to participate in the fall Commencement ceremony if you are eligible to graduate in the fall term.

When will I receive Commencement information?
If you applied by Oct. 1 to graduate, HACC will email Commencement information in October.
HACC will send a final confirmation email during the last week of November.
Will HACC include my name in the Commencement program book?
HACC will include your name in the program if you:
Submit your graduation application by Oct. 1
Can I invite guests?
You may invite as many guests as you wish to the ceremony. Guests should report directly to the Giant Center guest seating.
What if I need special accommodations?
If you are participating in the ceremony and need special accommodations, please call the Office of Student Affairs and Enrollment Management at 717-736-4145 by Dec.13.
Special Accommodations for guests
HACC uses closed captioning and interpreters during the ceremony to assist people with hearing impairments. Specially designated wheelchair sections are shown on the Giant Center seating chart. One companion seat is allotted per guest in a wheelchair.
Where can I purchase a cap and gown?
You can purchase your cap and gown at your campus bookstore. Please refer to your campus bookstore for hours of operation.
Where should we park?
You and guests must park in designated parking areas.
Handicapped parking is available in the front of the Giant Center for vehicles with handicap plates or placards. If you do not have a handicap plate or placard, you may drop off a person with limited mobility closer to the main entrance before parking in the general parking lot.
What should I do when I arrive to the ceremony?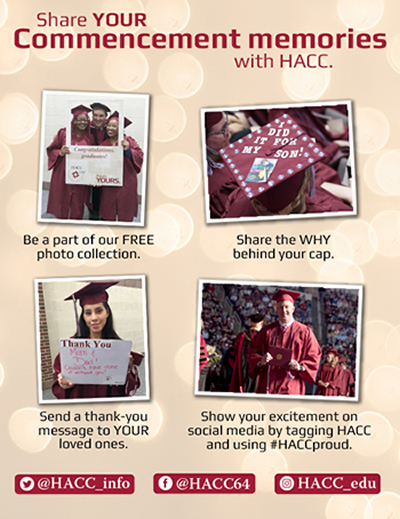 Students should enter at the club entrance at the Giant Center. Please follow the posted signage.
Please put on your robe, complete a name card and report to the designated are for graduates.
Please do not bring purses, cameras or other valuables.
Will there be professional Commencement photos?
Professional photography services will be available before and during the ceremony. You may have your picture taken in the concourse area at the Giant Center and when you receive your diploma cover.
You are under no obligation to purchase any photos. Please allow approximately one week for GradImages to finalize photos. Photos can be viewed on GradImages website after Dec. 26, 2019.
Informal photos are available on HACC's Flickr page.
Will the ceremony be streamed online?
HACC offered a live stream of the Commencement ceremony for the benefit of our students' family members and friends who were unable to attend the ceremony in person. You may view HACC's fall 2019 Commencement ceremony at http://bit.ly/HACCfall2019Commencement.
Where can I receive a Commencement program and other mementos?
Students will receive a Commencement program book on their seat on the ceremony floor. Guests will receive a Commencement program upon entrance to the Giant Center.
Flowers and Commencement mementos will be for sale in the concourse area.
What is the ceremony order?
The procession: Candidates will lead the procession. Faculty, Board of Trustees and platform guests then follow. Commencement candidates will form a double line for the procession and recession. Candidates will enter following the Student Marshals.
During the ceremony: Candidates should pay close attention to Dr. Ski, president of HACC, for instructions during the entire ceremony. Candidates need to remain seated during the ceremony.
The recessional:  Ceremony participants will be directed to be dismissed from floor.  The ceremony should last approximately two hours.
When will I receive my diploma?
HACC mails degrees, certificates and diplomas approximately four weeks after final certification.
What happens after I graduate? 
You join a network of over 95,000 alumni across the globe as part of the HACC Alumni Association! There is no charge to join, and your membership begins upon graduation. As a welcome gift, there will be a coupon on your seat at Commencement to redeem one free 'HACC Alumni' t-shirt. After the ceremony, please visit the HACC Alumni Association table in the lobby of the Giant Center to redeem your free t-shirt! Alumni are always welcome at HACC's campuses, and you may purchase a $25 Alumni College Card annual membership to use HACC's services and facilities. Please learn more about YOUR HACC Alumni Association online.