One Exciting Campaign Priority to Go!
HACC Foundation raising funds for area of greatest need
The HACC Foundation is devoting its full attention to the College's area of greatest need: raising $10 million to support the Bruce E. Cooper Student Center.
A nexus for HACC's students since 1968, the Cooper Student Center has been transformed into an attractive, modern facility that enhances the student experience and inspires success.
It's a place where: 
Veterans who attend HACC seek refuge
Students meet others and make friends for life
Students study and brainstorm solutions to questions
Single mothers and others work up the courage to seek financial aid and enroll in classes
Curious students learn about study abroad, intercultural opportunities and diversity initiatives
And it's about YOU – the people who make it all happen.
Thanks to generous, broad-based community support, the HACC Foundation recently surpassed the following campaign goals:
Funds for Excellence - The funds for excellence are crucial in allowing HACC to stay on the cutting edge of innovation by providing funding for projects that will enhance student experiences and opportunities.
Student Emergency Assistance Funds – The student emergency assistance funds are available to assist students facing financial emergencies and unexpected financial burdens. These funds assist HACC students who would otherwise be forced to postpone or end their education.
Scholarships – Each year, students with limited means make a difficult decision. Should they incur significant debt or not pursue their dreams? Scholarships provide a path for students to reach for the stars. Ben Franklin once said, "An investment in knowledge always pays the best interest."
Have a question about the Invest. Impact. Inspire Campaign for HACC? This page has the answers to the most frequently asked questions. Of course, we welcome your additional questions. Please send us an email at foundation@hacc.edu. 
Help us make sure the student experience at HACC is second to none!
Please Give Now
Students Who Have Benefitted from the Bruce E. Cooper Student Center:
"The faculty and the classes were the biggest reason for my success."
"The administration, faculty, and staff are incredibly student-centered! I have received nothing less than 100% support while taking classes."
"I only knew a little English when I first arrived and now I'm getting ready to go on for my bachelor's degree."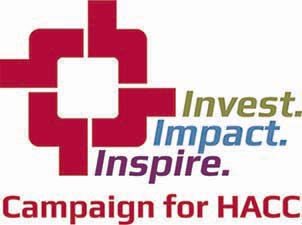 Total

9256137

* The current fundraising campaign began in August 2015. A previous fundraising campaign for the Bruce E. Cooper Student Center started in December 2010. The last contribution toward it was received in June 2019 . A total of $645,012.85 was raised for the previous fundraising campaign. The current fundraising goal thermometer includes the funds raised for the previous fundraising campaign.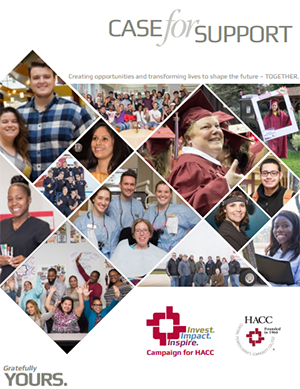 Digital Case for Support (pdf)