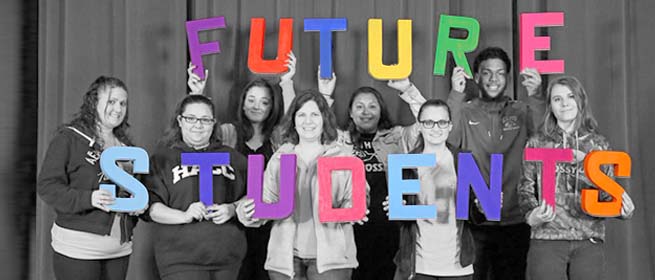 How do I become a HACC student?
Will HACC accept my college credits from another institution?
Students should contact their previously attended accredited institution(s) to request an official transcript to be sent to HACC's Records Office at record@hacc.edu, 717-901-4296 (fax) or HACC, Attn: Central Records Office, One HACC Drive, Harrisburg, PA 17110. Generally, it takes two weeks for the records office to review transcripts and determine which credits transfer.
Does my prior work experience translate to credits?
College Credit FastTrack provides students with the opportunity to seek college credit for work experience. Students may visit https://www.ccfasttrack.org/ for more information. Students also have the option to CLEP test to receive college credit for what you already know.
I applied to HACC before but never took courses. What do I do to update my term?
Students who never took courses should reapply for free at www.hacc.edu/applynow to update the term and any other pertinent information.
How do online courses work?
HACC's online courses follow standard semester timelines, but provide flexibility for students to login at different times from different locations. Each course is uniquely created by the instructor but often involves activities such as discussion posts, quizzes, videos, readings, and more. Students can explore a sample course at https://ehacc.hacc.edu/ (use 'haccstudent' as the username and password). See if online learning is a good fit for you by taking a 20-question self-assessment.
What resources does HACC offer to online students?
Online students may utilize both campus and online resources: campus resources and Virtual Learning Student Resource Guide, which highlight the Student Resource Center and Lounge, Smarthinking online tutoring, and many other helpful resources. Online students will also receive regular communication about resources and ways to get involved.
Do I need to come to campus at all as an online student?
Students are always welcome to come to a HACC campus; however, typically visits to campus are not required. There are a few courses, like online math courses, that require students to take proctored exams three times throughout the semester on a HACC campus or an approved off-site proctor location. Courses will list any proctored exam requirements in the course description within the class schedule.
How much time do I need to set aside for an online class?
As a general rule, students should set aside 135 hours in a semester for a 3 credit course. For a 15-week class, a commitment of roughly 9-10 hours; however, for a 7-week class 19-20 hours per week may be essential for success. Students may need more time for some courses and less for others. The important part is managing time well to be successful.
Are there certain hardware/software requirements?
An instructor will indicate in the course description and syllabus if special computer software is required. Some software can be obtained for free as a HACC student. For instance, current students may download the Microsoft Office Suite for free from myHACC under Student Success Resources.
Are HACC's online courses accredited?
When do classes start and end?
HACC offers four semesters: fall, spring, summer, and winter. Generally, fall runs from August through December, winter runs in December/January, spring runs from January to May, and summer runs from May through August; however, HACC offers many different parts of terms (start and end dates) within the semesters as well. Additionally, HACC offers accelerated courses, for students who would like to take a faster track. Students may view the class schedule for a complete listing.
Do I need a computer to take online courses?
Students need a reliable, high-speed internet connection to access courses. Most students use a laptop; however, a variety of other devices, such as desktops, iPads, tablets, and more, can be used to access courses. A cell phone may be used to access content, but is not recommended as the main device. HACC offers a PC Loan program for eligible students who meet the financial, academic, and other criteria.
What programs are offered fully online?
What classes are offered fully online?
How many classes can I take at a time?
Students work with an advisor to discuss an educational plan, including which courses will be taken. Part-time students take less than 12 credits and full-time students take 12 credits or more.
How long does it take to complete a program?
There are a number of factors that impact the completion time for a program. Students are encouraged to connect with an advisor to discuss an educational plan that aligns with his or her goals. Generally, a student attending full-time can complete a diploma in a few months, a certificate in a year, and an associate degree in two years.